G e o g r a p h y
The family domain is situated on the municipality of Saint-Médard-de-Guizières, in the crossing of the meridian 0 of Greenwich and 45 ° North parallel line. Bordering of the area of Saint-Emilion, the culture of the vine is the same. Grounds are of sedimentary origin, with clays, grave and silt in the valley. On Lussac, the ground of the Chateau Les Combes is a mix of clay and limestone exclusively.
H i s t o r y
Situated on an ground very convenient to the culture of the vine, many facts of the history of France took place in a sector of some kilometers. Saint-Médard-de-Guizières is in the heart of a triangle Francs-  Castillon-Coutras  steeped  in  history.   At the beginning of the VIth century:  during the battle of Vouillé, a detachment of the Franque army of Clovis establishes his camp on a place the village of which names Francs.
Then in 1453, the battle of Castillon ended the One hundred years war and the links of Aquitaine with England.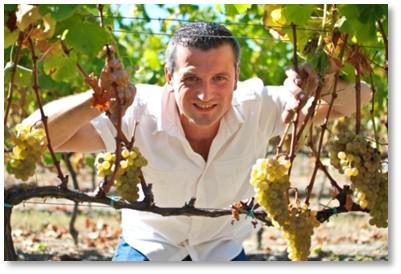 Frederic Borderie
In 1587, Henri IV stayed in the region to fight to Coutras, in order to unify the kingdom of France. Since five generations, we elaborate our wines in the biggest tradition of Bordeaux.

The domain station wagon is represented by 3 châteaux :
Château les Gravieres de la Brandille, created by René BORDERIE in 1963, is exclusively produced in Bordeaux Supérieur (red wine).
Château Les Combes, created in the end of the 19th century, arises from successions of generations, elaborates Bordeaux Blanc, Bordeaux Rosé and Lussac-Saint-Emilion.
Château Vieille Dynastie, created during the 22th century by the hospitaliers of St Jean de Jerusalem.
CHÂTEAU LES GRAVIÈRES DE LA BRANDILLE
Bordeaux Supérieur

CHÂTEAU LES GRAVI ÈRES DE LA BRANDILLE
AOC Bordeaux Supérieur, red Tradition
65% Merlot / 20% Cabernet sauvignon /
15% Cabernet Franc

CHÂTEAU LES GRAVI ÈRES DE LA BRANDILLE
AOC Bordeaux Supérieur, red Prestige
90 % Merlot /10%  Cabernet Sauvignon
CHÂTEAU  LES COMBES
Lussac ST-Emilion

CHÂTEAU LES COMBES
AOC Bordeaux, white
90% Sauvignon Blanc / 10% Semillon

CHÂTEAU LES COMBES
AOC Lussac St Emilion, red
100% Merlot

CHÂTEAU LES COMBES, CUVÉE LOUIS GABRIEL
AOC Lussac St Emilion, red
95 % Merlot / 5 % Cabernet Franc
CHÂTEAU  VIEILLE  DYNASTIE
Lalande de Pomerol

CHÂTEAU VIEILLE DYNASTIE
AOC Lalande de Pomerol, red
Merlot / Cabernet Sauvignon / Cabernet Franc

CHÂTEAU VIEILLE DYNASTIE
AOC Lalande de Pomerol, red
Cabernet Sauvignon