A family run business
One of today's leading companies in the Bordeaux wine sector, Lucien Lurton & Fils was set up by Lucien Lurton and his children in 1993. The business took the name La Passion des Terroirs in 1999 to mirror its strong attachment to terroir and the passion of a whole family for vines and wine throughout its history and to become a fullyfledged Bordeaux wine merchant.
The company is now among the top 10 négociant houses in the Bordeaux market, distributing wines from all the appellations of the Bordeaux region in join-venture with Club Cepages group.
The Lurton family, one of the main Châteaux owners of the region, is a leading actor of the Bordeaux wine world since 3 generations.
Since 1954, Lucien Lurton acquired some of the most prestigious flagships of the Bordeaux region, many of which are Classified Growths. In 1992 he handed down his properties to his children.
A constant search for excellence and the best expression of the estates' terroirs.
Since 1992, Lucien Lurton's children have been successfully taking over the reins of the family estates. These brothers and sisters, watchful guardians of their respective terroirs, have continued to tend their vines with the enthusiasm and savoir-faire of previous generations.
Character, care for the land, uncompromising standards and independence: these are the watchwords of the Lucien Lurton family.
La Passion des Terroirs sells  the château/wines of the whole family (first and second wines) with exclusivity agreements for the distribution of some of them .
---
AOC BORDEAUX BORDEAUX-BORDEAUX SUPERIEUR

Château Beyran
50% merlot
40% cabernet sauvignon, 10 % Cabernet franc

Rouge de Barat
100% merlot

Château Marquet La Paillerie
80% merlot
20% Cabernet sauvignon
Château du Grand Jardin
85% merlot
15% cabernet sauvignon

Bordeneuve
50% merlot 30% Cabernet sauvignon
20% Cabernet franc
---
AOC MEDOC

Château Haut Myles
Cru bourgeois
60% merlot
40% cabernet sauvignon

Château les Tresquots
Cru Bourgeois
55% merlot
45% Cabernet sauvignon

Château Livran
Cru Bourgeois
55% merlot
45% Cabernet sauvignon
---
AOC HAUT MEDOC

Château Doyac
Cru bourgeois
75% merlot
25% cabernet sauvignon

Château Lamothe Bergeron
Cru Bourgeois
50% merlot
45% Cabernet sauvignon
5% Cabernet Franc
Château de Villegeorge
Cru Bourgeois
58% merlot
42% Cabernet sauvignon

Château Saint Paul
Cru Bourgeois
60% merlot
35% Cabernet sauvignon
5% cabernet Franc
---
AOC MARGAUX

Château Fontarney
54% merlot
46% Cabernet sauvignon
(2nd wine of Château Desmirail)


Château Tayac
Cru Bourgeois
55% merlot, 35% Cabernet sauvignon
10% Petit Verdot

Médaille d'Or, Concours de Bordeaux 2015
Labastide Dauzac
60% merlot
40% Cabernet sauvignon

Les Clefs de Margaux
60% merlot
40% Cabernet sauvignon

Relais de Duffort Vivens
Margaux (2nd vin de Château Duffort Vivens)

Le page de la tour de Bessan
Margaux (2nd Wine of Ch de La Tour de Bessan)
AOC Pauillac

Château Montgrand Milon
Cabernet-sauvignon : 60%
Merlot : 20%, Cabernet franc : 15%
Malbec : 2,5%, Petit verdot : 2,5%
AOC Saint Julien

Château Les Ormes

60% merlot
40% Cabernet sauvignon
AOC Saint Julien

Les Clefs de Saint Julien
Cabernet-sauvignon : 65%
Merlot : 25%
Petit verdot : 5%
Cabernet franc : 5%
---
AOC Saint Estèphe

Les Clefs de Saint Estèphe
Cabernet-sauvignon : 53%, Merlot : 38%
Cabernet franc : 7%, Petit verdot : 2%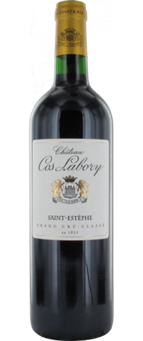 Château Cos Labory
5th Growth, AOC Saint Estèphe
72% merlot, 28% Cabernet sauvignon

Charme de Cos Labory
AOC Saint Estpèphe
Cos Labory 2nd wine
72% merlot, 28% Cabernet sauvignon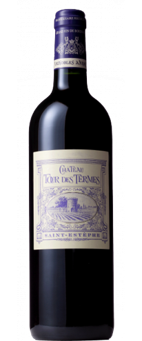 Château Tour des Termes
AOC Saint Estèphe
Cru Bourgeois
Cabernet-sauvignon : 60%, Merlot :40%
---
AOC SAINT EMILION GRAND CRU
Château Coutet
Grand Cru
60% merlot,30 % cabernet franc
5% malbec, 5% cabernet sauvignon

Château Fonroque, Grand Cru Classé
85% merlot,15% cabernet franc

Château Cartier
2nd wine of Château Fonroque
100% Merlot

Château Clos Bel Air
Merlot : 80%,Cabernet sauvignon: 10%
Cabernet franc: 10%

Château La Création
Merlot : 80%
Cabernet franc : 15%
Cabernet-sauvignon : 5%

Château Moulinet
Merlot : 90%
Cabernet franc: 10%
LUCIEN LURTON FAMILLY OWNER ESTATES
Joint-venture with the Lurton family, owner of 27  Châteaux Estates in Bordeaux left bank; 13 are Classified in 2nd , 3rd & 5 th Growth Grand Crus Classés
We do provide as well, a large stock of  Grand Crus Classés and Primeurs allocations:


Château DURFORT-VIVENS, Margaux 2nd Grand Cru Classé / Biodynamic

Château BRANNE- CANTENAC, , Margaux 2nd Grand Cru Classé


Châteaux FERRIERE, Margaux 3rd Grand Cru Classé  / Biodynamic

Châteaux DESMIRAL, Margaux 3rd Grand Cru Classé
Château GRUAUD LAROSE, Saint Julien 3rd Grand Cru Classé


Château HAUT-BAGES LIBERAL Pauillac 5th Grand Cru Classé / Biodynamic

Château CAMENSAC, Medoc 5th Grand Cru Classé


Château CLIMENS , Barsac,1st Cru / Biodynamic

Château BOUSCAUT, Pessac-Leognan Grand Cru Classé
Château LAMOTHE-BOUSCAUT, Pessac-Leognan
Château VALOUX, Pessac-Leognan
Château LA TOUR DE BESSAN, Margaux
Château FONTARNEY, Margaux
Château LA GURGUE, Margaux
Château DOMEYNE , Saint Estephe / Biodynamic


Château LIVRAN, Medoc Cru Bourgeois

Château DUPLESSIS , Moulis en Medoc, Cru Bourgeois
Château CHASSE-SPLEEN, Moulis en Medoc,
Château de VILLEGORGE, Haut Medoc
Château de CAMARSAC, Bordeaux Superieur
Château BARAT, Bordeaux
Château MARJOSSE, Bordeaux
Château REYNIER, Bordeaux
Château de BOUCHET, Bordeaux