LA SUZIENNE
H i s t o r y
Legend would have it that one September evening in 1564, Charles IX and his mother Catherine de Medicis arrived in Suze, accompanied by their sumptuous court, having come to honour the baptism of François de la Beaume's daughter, lord of Suze and governor of Provence.
During the celebrations, François de la Beaume served his honourable guests with a local wine which was so delicious that Catherine de Medici, enamoured by it, returned to Suze in July 1579 to buy the vines which produced this "divine beverage".
In 1925, wary of the difficulties which were about to hit the wine growing industry (poor harvests and substantial investment needs for new equipment) a few wine growers including Louis BOYER and Léon BOUDON, mayor of Suze, decided to join forces in order to select the grapes and to produce high-quality wine together.
The first 80 wine-makers chose Louis BOYER as the president of the young cooperative. Thanks to careful management, it has developed to include 877 members today throughout the communes from South Drôme to North Vaucluse.
At the gateway to the Drôme Provençale, Provençale and with some 75 years of experience now behind it, La Suzienne has progressed and kept up with – perhaps even been a forerunner of – the technological improvements in the wine-making process. It supplies customers with the best of their appellation wines Côtes du Rhône, Côtes du Rhône Villages and Coteaux du Tricastin. Thanks to solid teamwork which has never faltered over the last few years, La Suzienne is a leader in high-quality wine production.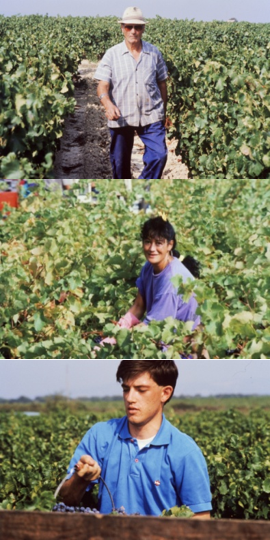 LE LUTIN
AOC Grignan-Les-Adhémars , rosé
Grenache Noir / Cinsault

LE LUTIN
AOC Grignan-Les-Adhémars , white
Grenache Blanc / Viognier

LE LUTIN
AOC Grignan-Les-Adhémars , red
Grenache Noir / Syrah

MISTRALOU
AOC Côtes du Rhône, rosé
Grenache Noir / Cinsault

MISTRALOU
AOC Côtes du Rhône, white
Grenache Blanc / Viognier

MISTRALOU
AOC Côtes du Rhône, red
Grenache Noir / Carignan /  Syrah

CÔTES DU RHONE VILLAGE
AOC Côtes du Rhône Village  Red
Grenache Noir / Syrah

ROCHEGUDE
AOC Côtes du Rhône Village, red
Grenache Noir / Syrah / Carignan

LA GRISE
AOC Côtes du Rhône Village, red
Grenache Noir / Syrah

C/T
Grignan-Les-Adhémars , red
Grenache Noir / Syrah

RABASSIERE
AOC Grignan-Les-Adhémars, red
Grenache Noir / Syrah

CUVÉE MEDICIS
AOC Grignan-Les-Adhémars, white
Grenache Blanc / Viognier

CHÂTEAU CHARTROUSSAS
AOC Grignan-Les-Adhémars, red
Grenache Noir / Syrah